Well this recipe has been a real hit internationally from BC to Quebec and Bolivia to Uruguay. Here in Uruguay we've done it a few times for birthdays, doubling the recipe easily and using dulce de leche as icing!! I always reduce sugar in recipes and love to make things more chocolatey, so this recipe is my reduced version, but sometimes I reduce even more. The deep chocolate flavour and bitterness of the cake make a great compliment to the sweetness of dulce de leche.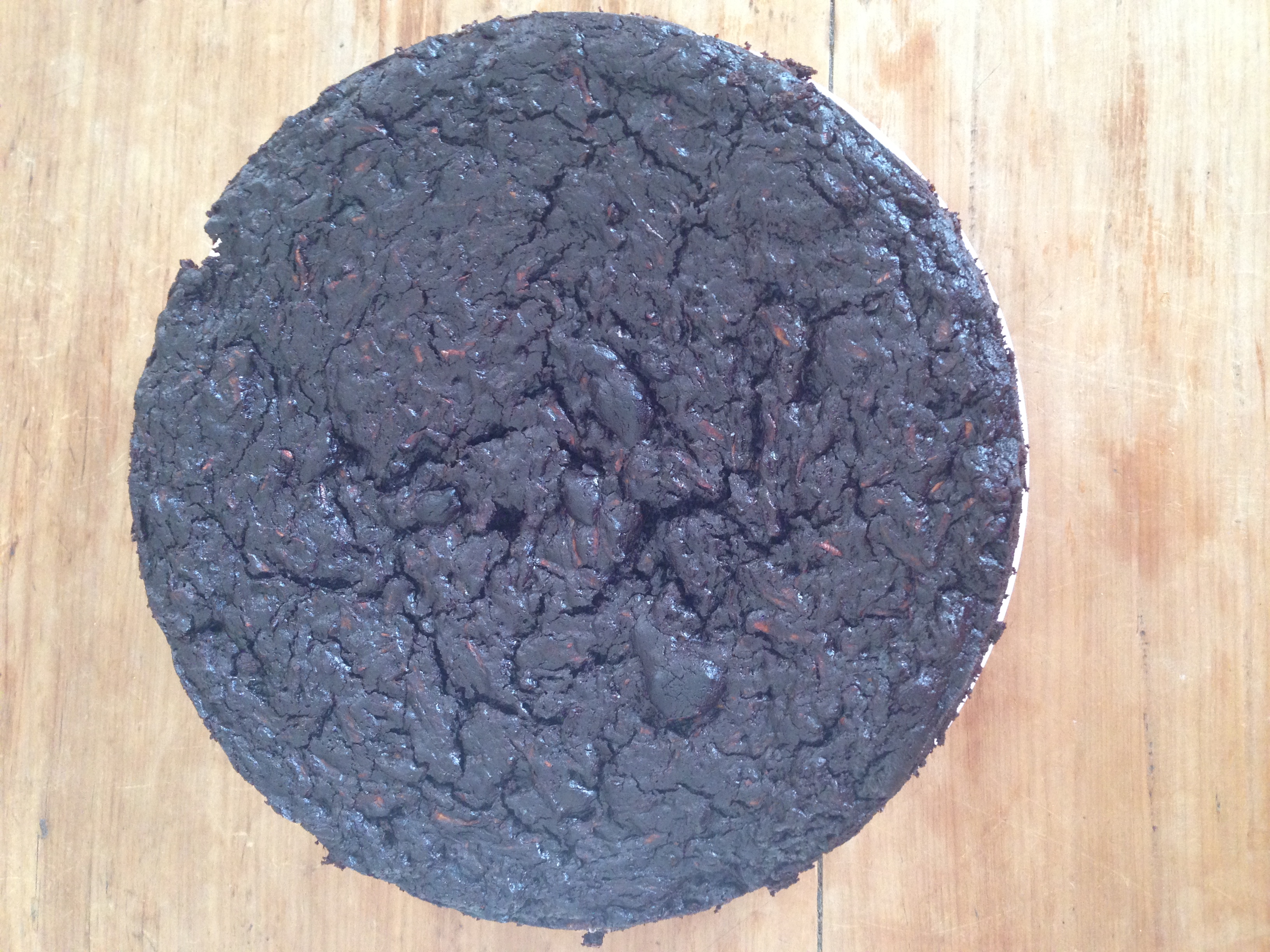 Ingredients:
3 cups of grated yam (the orange fleshed one) – about 1 medium
2 eggs
1/2 cup coconut oil (melted) or any other oil
1/3 cup honey
2 tsp vanilla (I always skip it when it's hard to find)
1 cup raw cacao powder (unsweetened)
1 tsp of baking powder
1 tsp of baking soda (or 2 tsp of either when you can't find one)
2 tbsp coconut flour (or skip it, or any other flour or powder, I've put ground flax seeds occasionally)
Instructions:
Combine yam, eggs, coconut oil, honey, and vanilla in a large bowl. In a small bowl combine cacao powder, baking soda and powder, and coconut flour. Stir dry mixture into wet mixture until well combined.
Line an 20x20cm (8×8) pan with parchment paper or coat with coconut oil. Spread batter in pan and cook for 25-30min at 365F. When a toothpick comes out clean it's done! Allow to cool.
Icing Ideas
Chocolate with coconut oil: 1 cup dark chocolate chips melted over medium heat with 1/3 cup coconut oil and 1 tbsp of vanilla (can use double-boiler). Whip with hand-mixer until fluffy and spread over cake once cooled. Fresh berries on top add a delicious combo if you'd like!
Dulce de leche – need I say more! (I already cut most of the sugar out of recipes, but may decrease the honey a bit more if I'm going to go full sugar on top 😉
Chocolate cream cheese icing! I love the combination of cheese and chocolate, here's a version with stevia instead of sugar. 125g cream cheese, 4 tbsp coconut cream, 3 tbsp cacao powder, and 2 tsp stevia.